---
SKU: EF2222-24-125
---
Reflects heat and controls condensation in extreme/colder climates
Regular price
Sale price
$129.00
Unit price
per
Sale
Sold out
Free Shipping!
Square Footage Calculator
---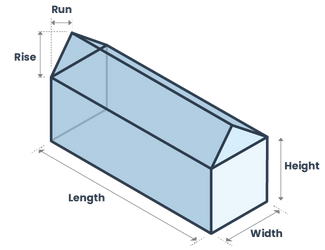 ---
Walls: sq. ft.
Roof: sq. ft.
Total: sq. ft.

Product details:

EcoFoil Floor Joist Insulation is constructed of a double layer of polyethylene bubble insulation bonded to two radiant barrier metalized sheets. This (1/4" to 5/16") thick insulation provides superior protection against radiant heat transfer and also provides an effective vapor barrier, preventing condensation which can cause mold. Bubble insulation is rated by its high reflectivity of 96%, and low emissivity of 4%. This means only 4% of radiant heat passes through the insulation. Simply put the insulation is not trying to slow the way heat passes through it, the insulation is trying to eliminate heat from passing through it.

This insulation is designed to fit in between either a studded wall or floor joists that are 24" on center. The 24" wide insulation is lightweight and includes a 3/4" flat staple tab on each side for easy installation.

R-Value Of Radiant Barriers

Rather than rating by R-value, all radiant barrier products are measured by their reflective and emissive properties. EcoFoil double bubble insulation is 96% reflective and 4% emissive, meaning the product only allows 4% of radiant heat to pass through. 

There are some companies out there posting big R-Value numbers for their radiant barriers, but those numbers are rating the entirety of the system—including the product, air gap, and other building materials. In reality, most radiant barriers by themselves have little to no R-Value. If you need to satisfy a building code of a specified R-Value, we recommend the use of a traditional insulation in conjunction with our radiant barrier in order to meet code. For more information on R-values, see our How It Works page or contact a member of our friendly service team via chat, by calling (888) 349-3645, or using the form here.  
Materials:

Ecofoil Floor Joist insulation is made from a double layer of polyethylene bubbles, sandwiched between two highly reflective surfaces with a metalized coating. Pre-cut to 16" or 24" width. Staple tabs on both edges allow easy attachment to joists or wall studs. This product is classified as Class 1/Class A in accordance with the ASTM-E84-09 fire test standard. The product was mounted in accordance to ASTM-E2599-08. It is lightweight, durable, and is easy to handle and install.
10-year limited warranty:

This product carries a manufacturer's 10-year limited warranty against material defects, including but not limited to de-lamination, surface imperfection, foil corrosion, and air retention. Please note: this warranty does not necessarily cover defects due to improper installation, natural disasters, normal wear and tear, or exposure to chemicals and gasses. View Manufacturer Warranty
Shipping Info:

This product ships FREE via FedEx Ground. Products ship same-day on orders received before 4pm CT and are typically delivered within 2-5 days. Expedited shipping options available. Call us at 888.849.3645 or contact us for more information on shipping options.
Dimensions:

24 in x 125 ft (250 square feet per roll)

~1/4" thick
Installation Tips:

Convenient staple taps along each edge make for easy installation under floor joists or between wall studs.
Spec Sheets:
Download Spec Sheet
View full details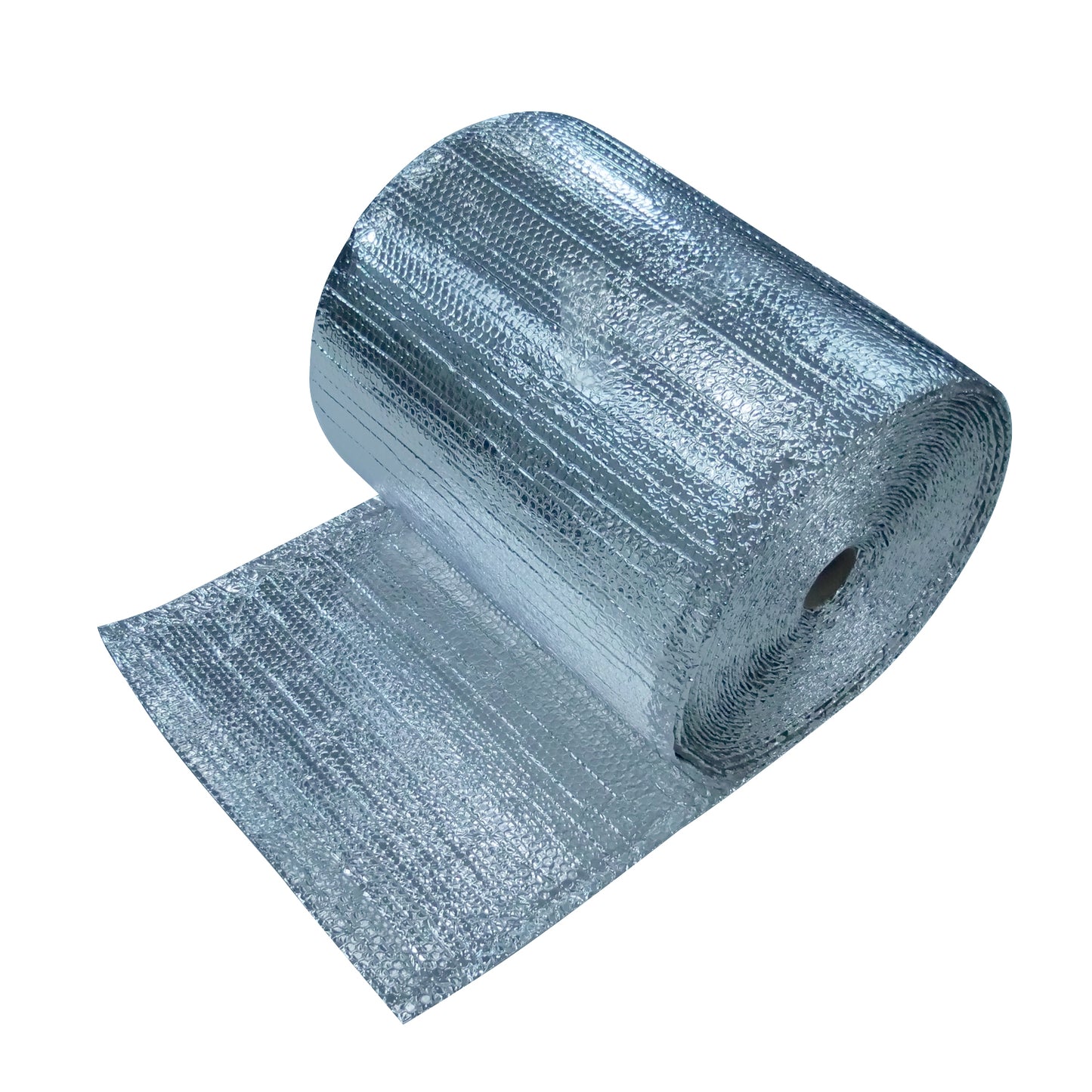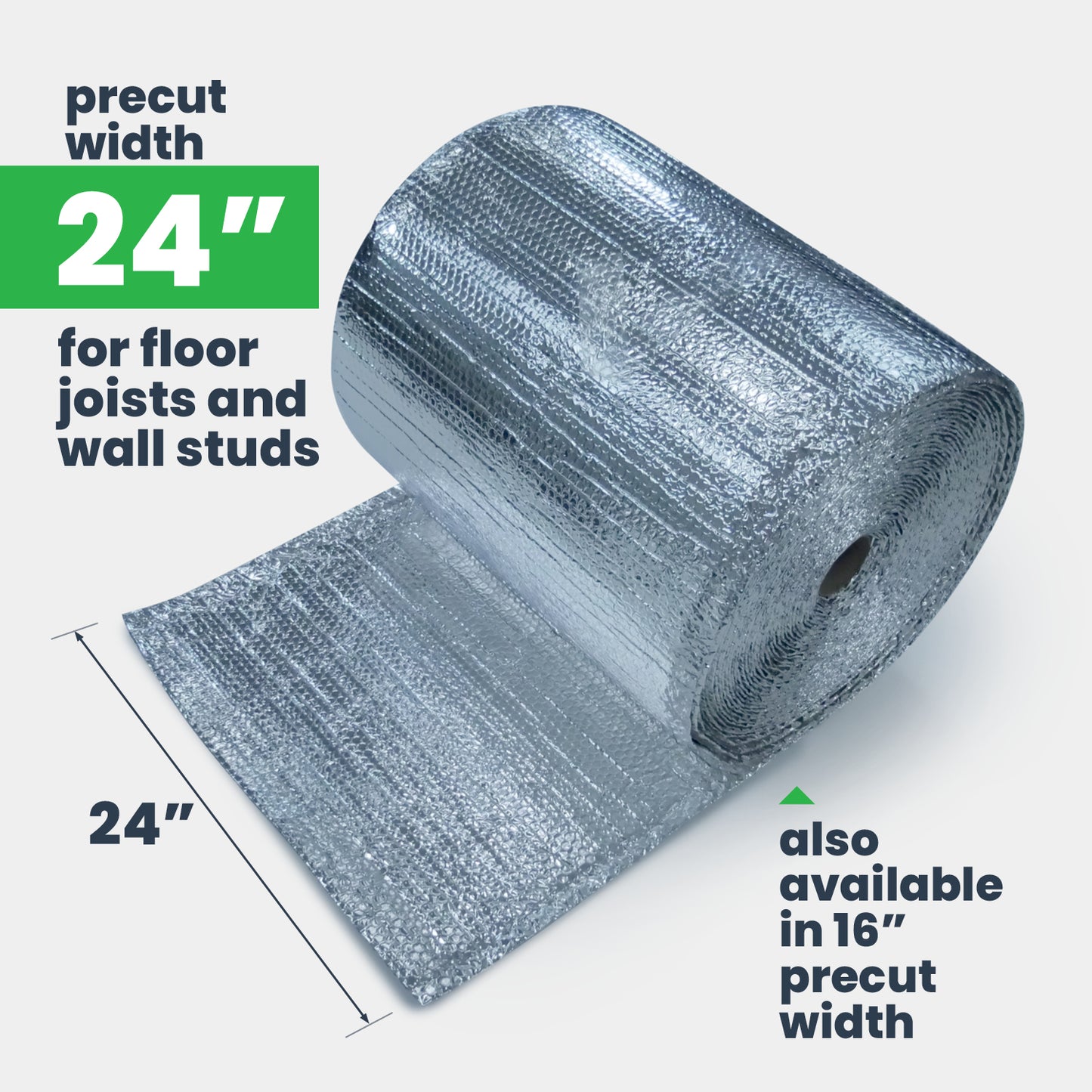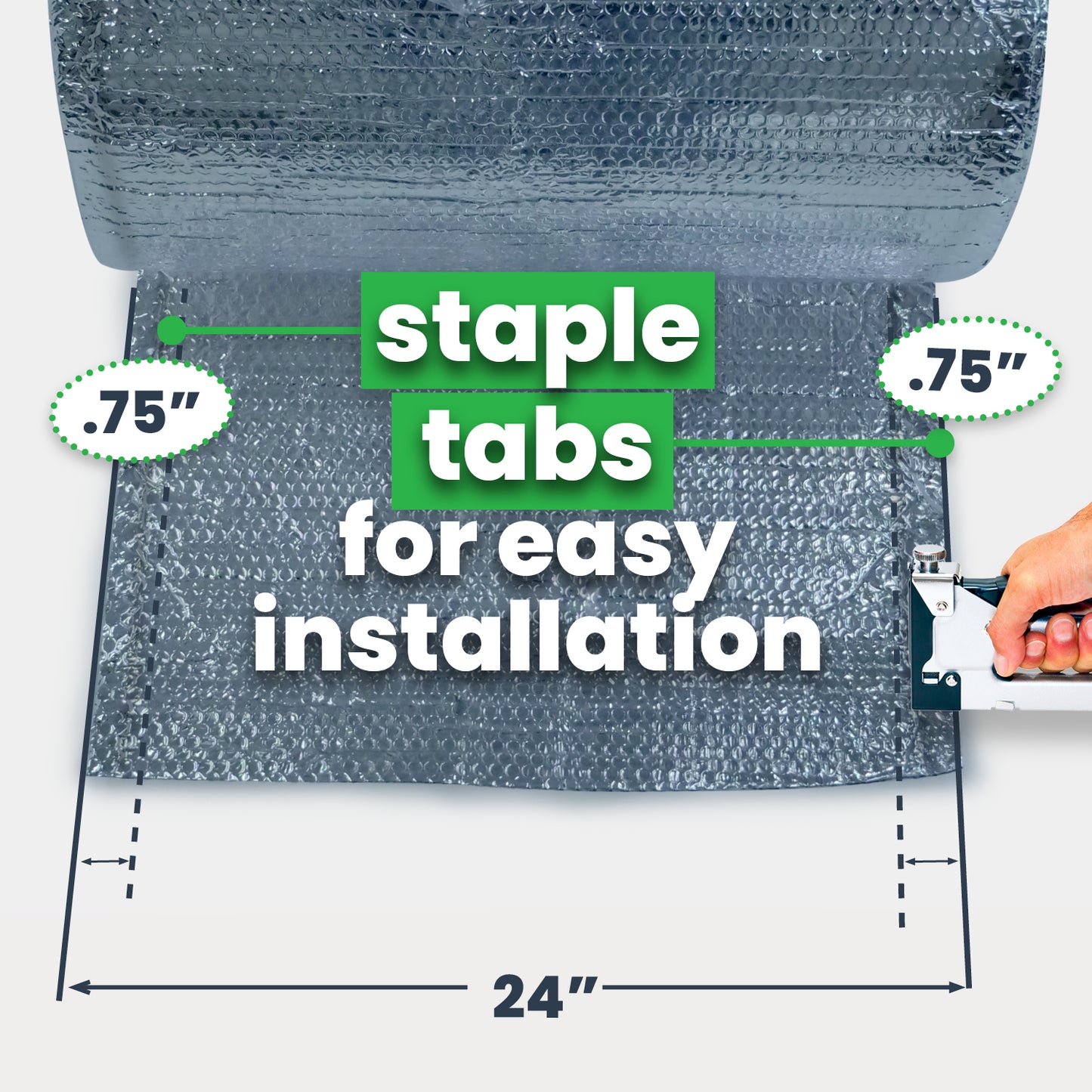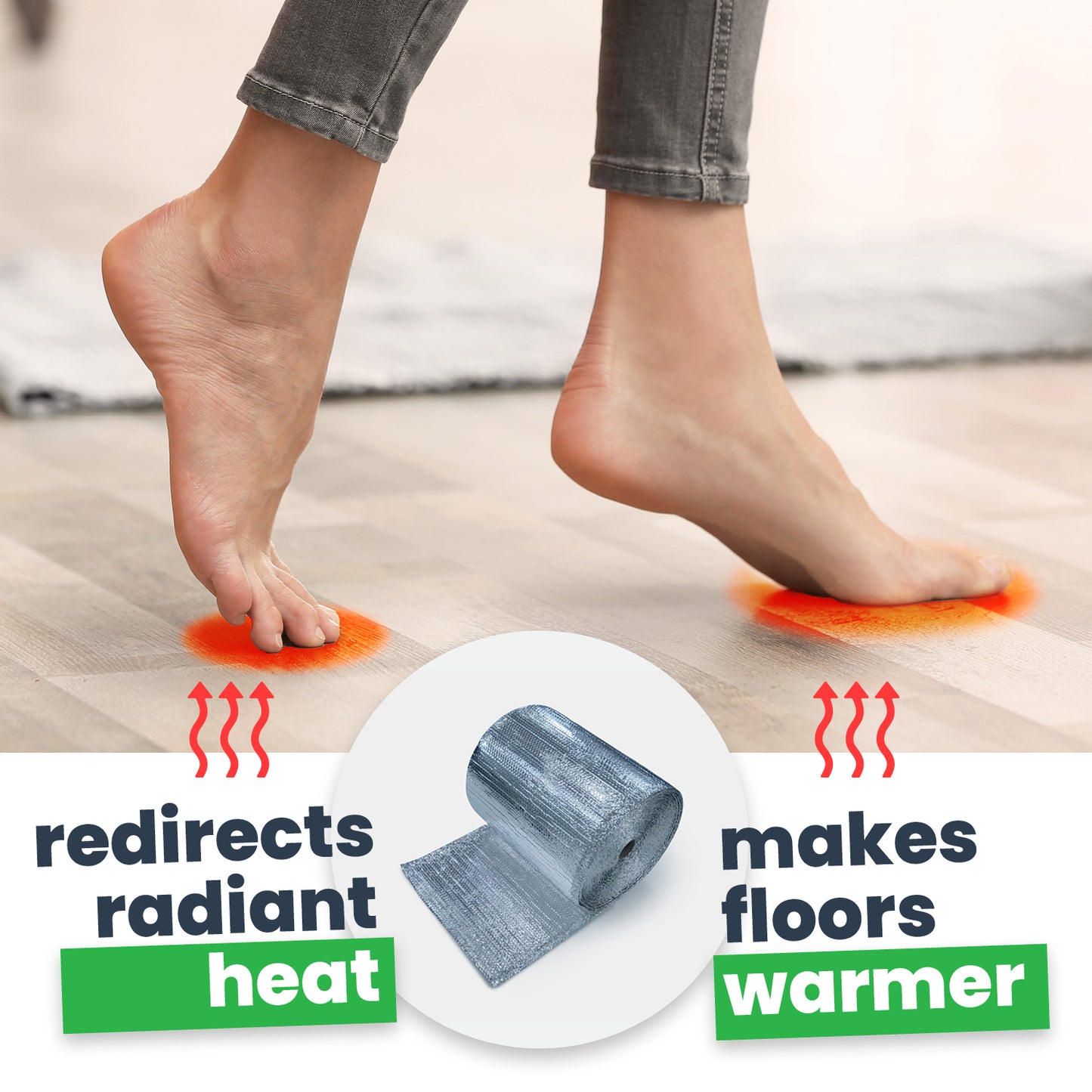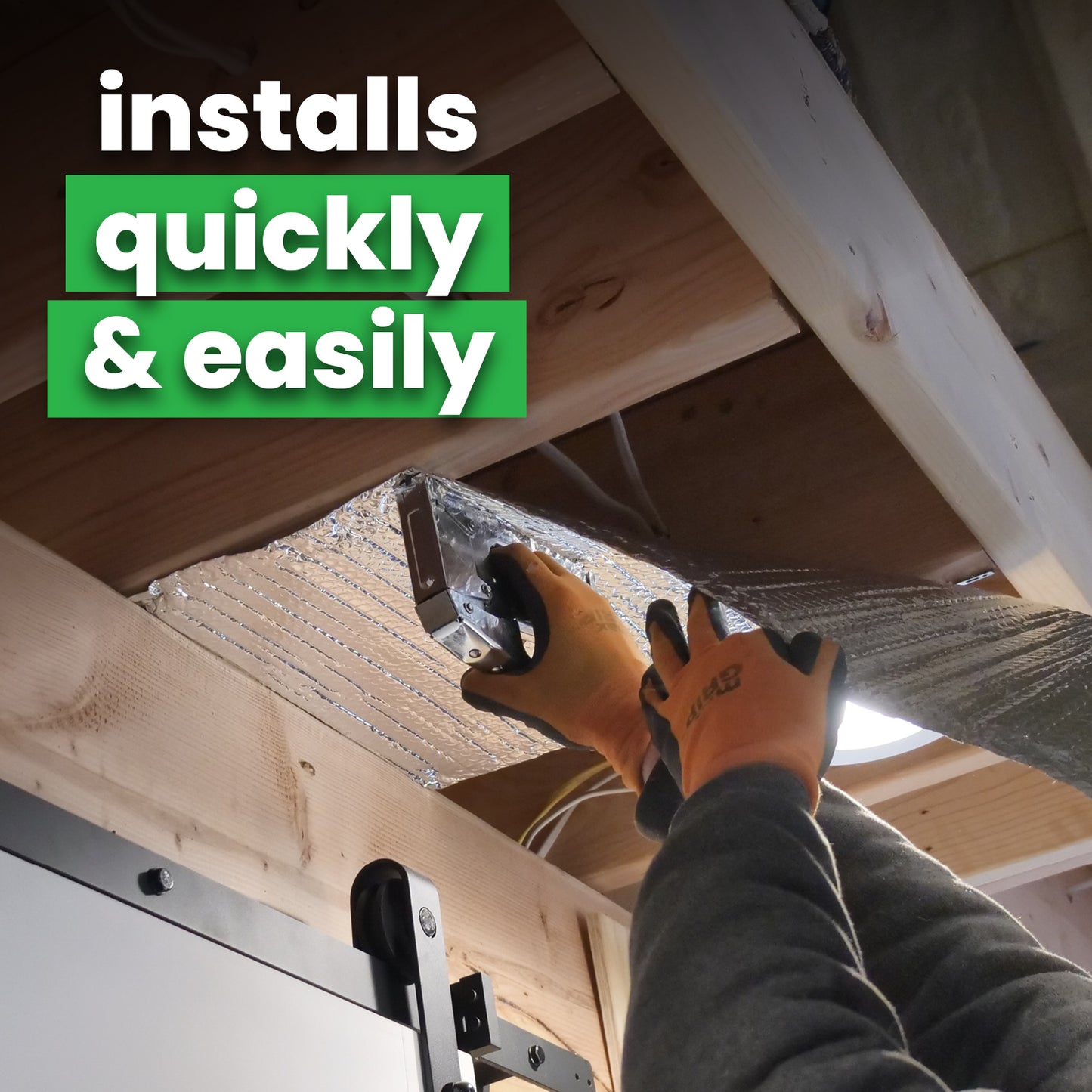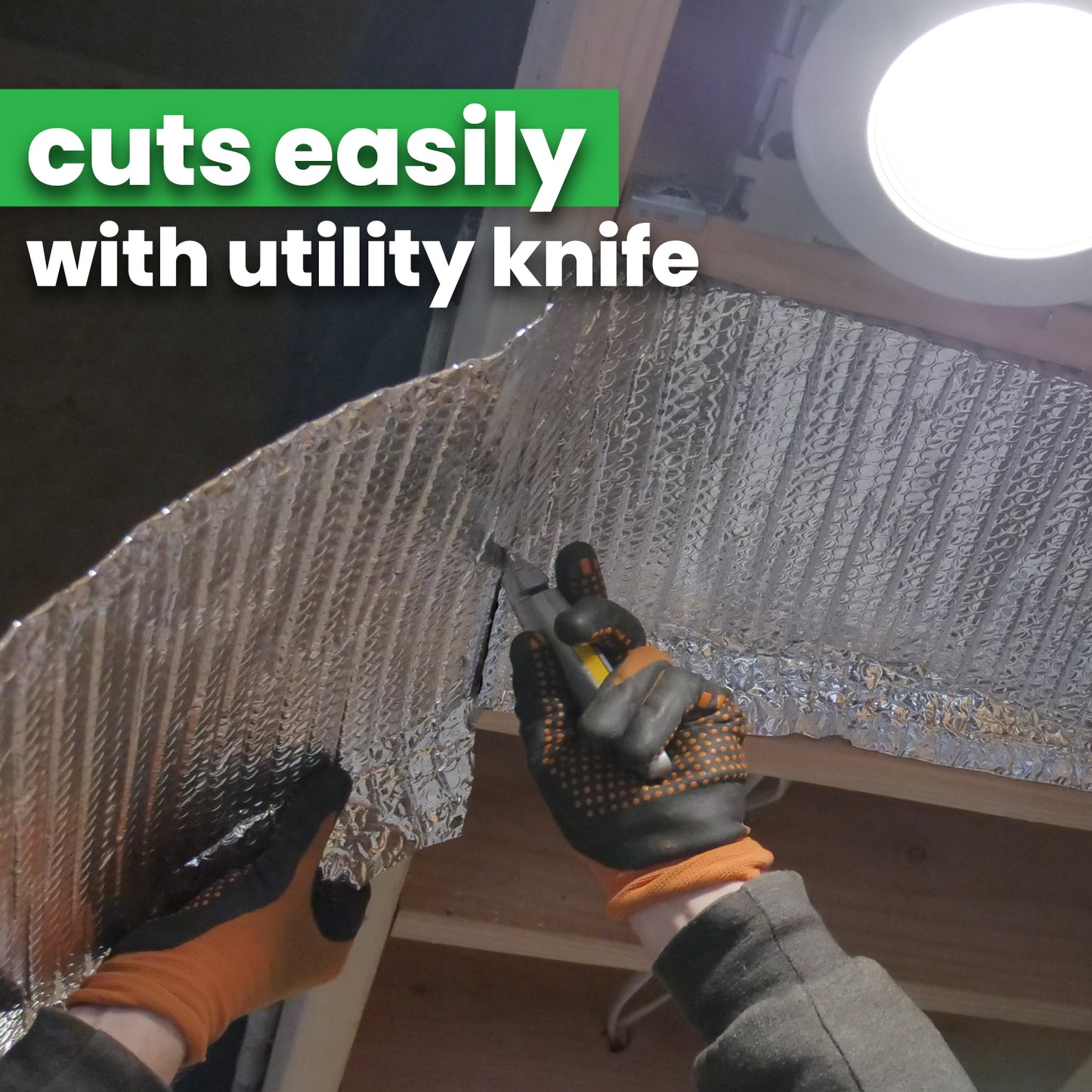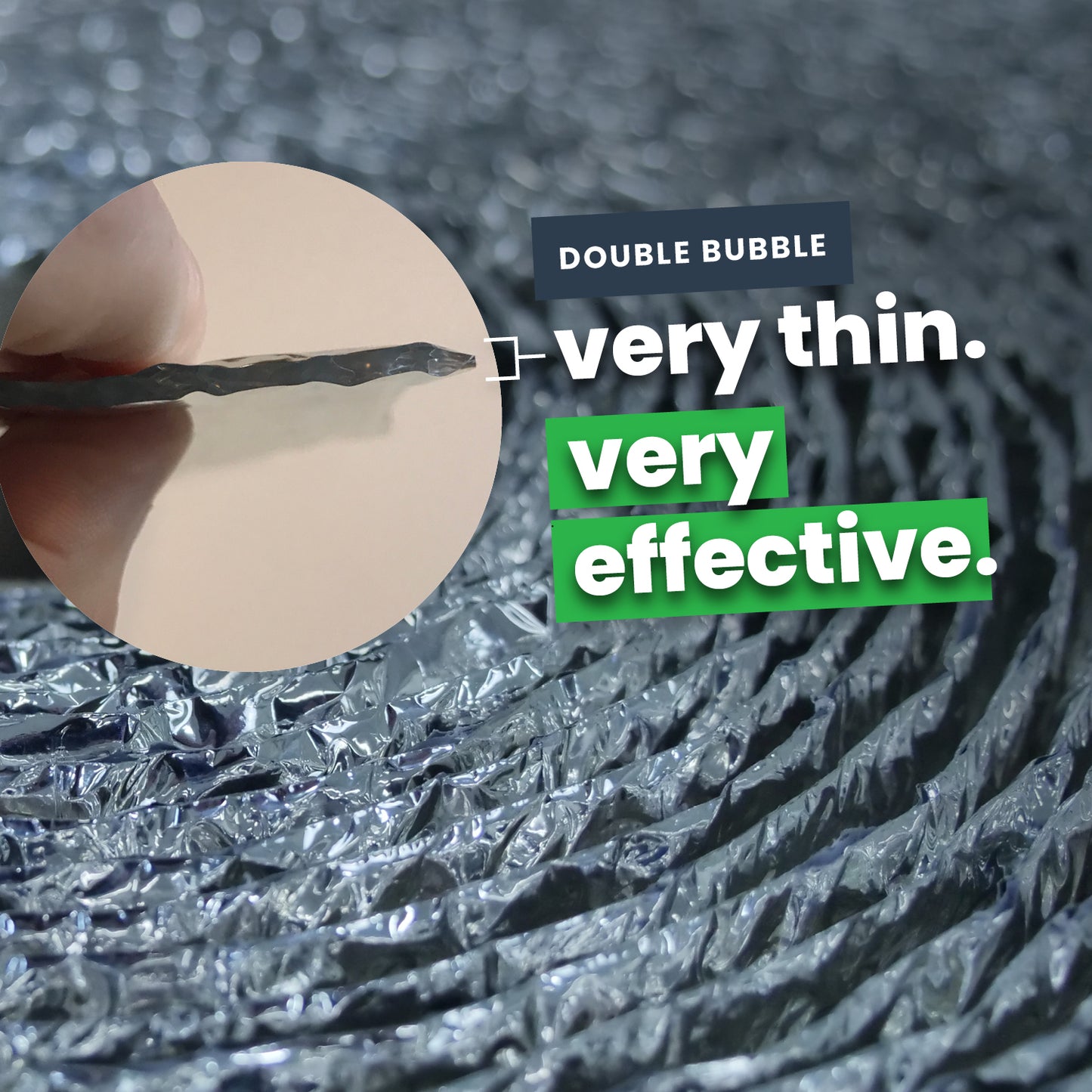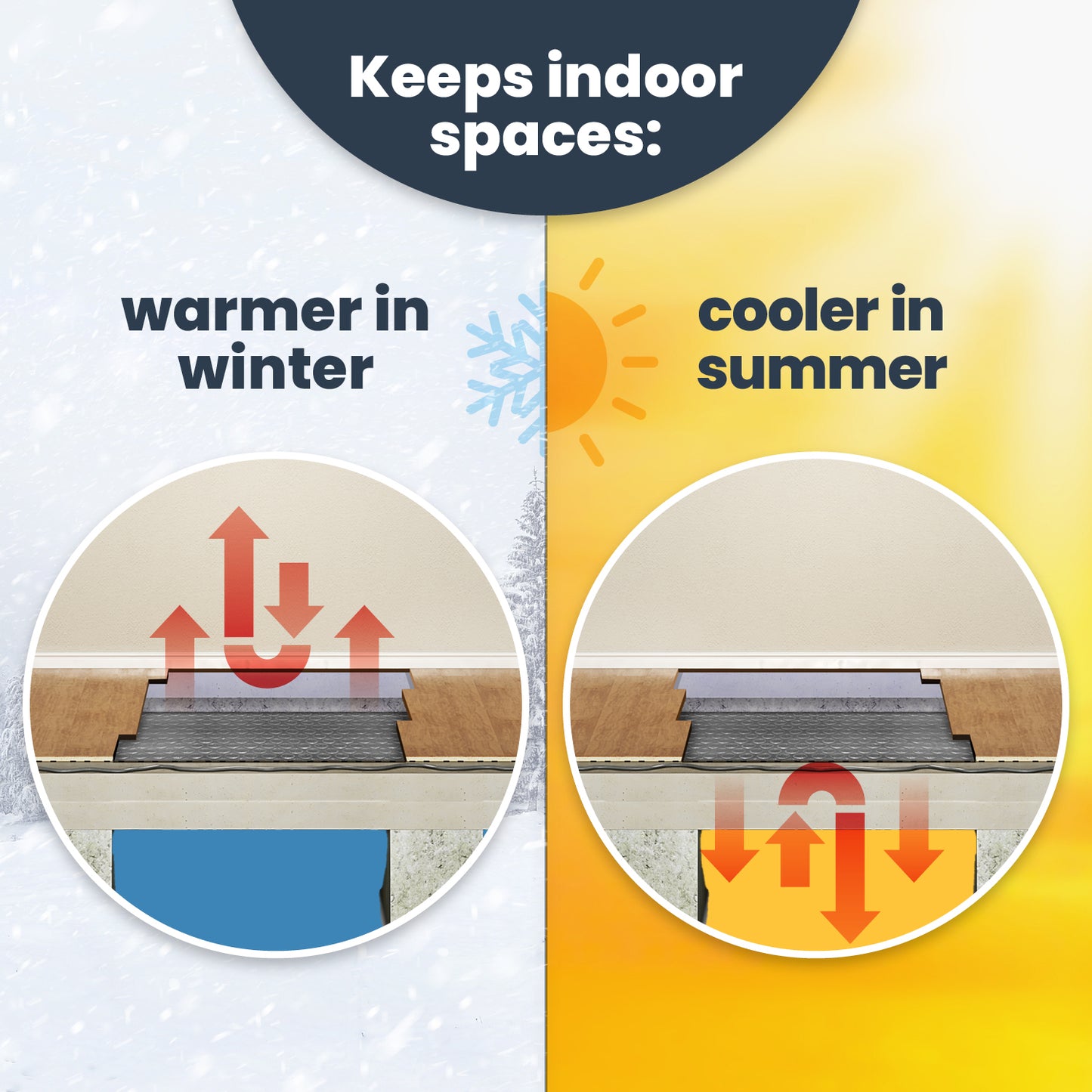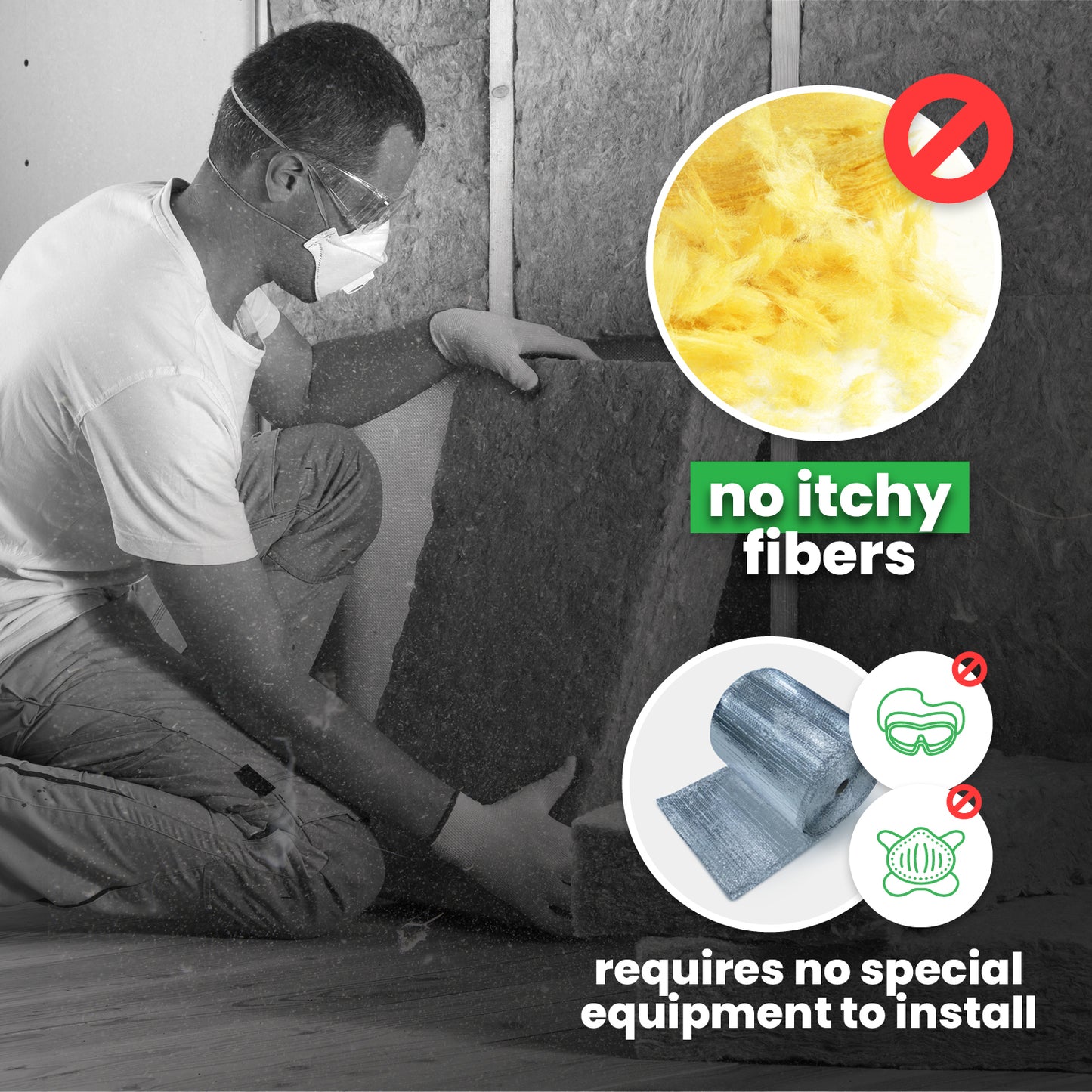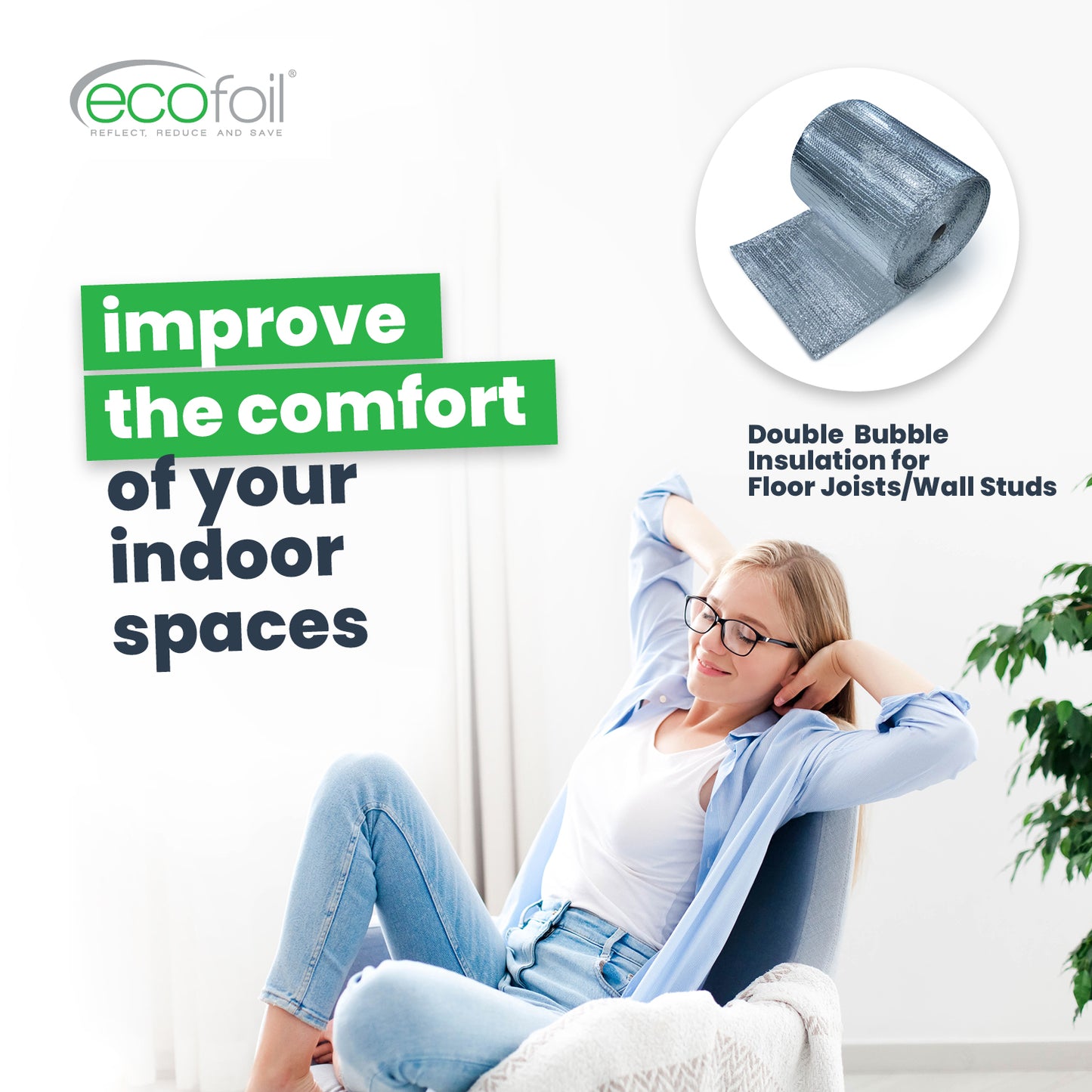 Worked perfectly!
As advertised! Product was easy to work with and installation was easy.
Used in a crawlspace to update a customer's existing insulation worked well and easy to install
Floor Joist Insulation
My guys said this was so easy to install. Will probably use for other projects as we move forward
Big Difference
Installed was easy, used my staple gun. Staple tabs made it easy. Material was stronger than I thought it would be. Have only had a few hot days and noticed a big difference in temperature in my wood shed.
EASY APPLY AND GREAT FIT
TO ANYONE BUILDING OR REMODELING THIS STUFF IS THE WAY TO GO! CANT WAIT TO ORDER WALL FOIL!!!
Frequently Asked Questions
Should I choose Single Bubble or Double Bubble Reflective Insulation?

Generally speaking, you should install Double Bubble in colder, extreme climates with cold winters (Northern US). Double Bubble Reflective Insulation will help prevent the formation of frost and condensation when temperatures are very cold on one side of the material, and warm on the other. The larger these temperature differences are, the greater the risk of condensation. If you're not as concerned about condensation, Single Bubble Insulation could work for your application.
What do the bubbles do?

The layer of bubbles provides a thermal break between hot and cold air, and helps eliminate condensation from forming in your structure. Double Bubble has two layers of bubbles for extra condensation prevention. Double Bubble Reflective Insulation is typically used in the northern states where temperature differences inside vs. outside your structure are extreme, typically during cold, frigid winters.
How much tape do I need?

1 roll of tape will be needed for every 500 sq ft of reflective insulation. It's important to tape the seams between adjoining sheets—never use tape to attach the product directly to your structure. Taping the seams creates a vapor barrier when installed properly, and helps ensure the reflective properties of the insulation.

Which tape do I choose?
Should I choose a white finish or a foil finish?
How do I install Double Bubble Insulation?

Installation methods will vary, depending on your application. If your structure has exposed studs, the material can be stapled with a staple gun. If you have nothing to staple the product to, choose a spray adhesive like Spray-Lock Multi-Purpose Eco-Friendly Spray Adhesive. More information on installation methods can be found under the "Shop by Application" tab in the main menu at the top of this page. Don't hesitate to reach out to our team if you'd like any advice on your specific project. Give us a call at 888.349.3645, send us a chat, or contact us electronically. We are always happy to help!
Shop Bubble Foil Insulation