---
SKU: EFM4800-48-125SOLID
---
For walls, roofs, floors and crawl spaces that require a vapor barrier
Regular price
Sale price
$94.99
Unit price
per
Sale
Sold out
Free Shipping!
Square Footage Calculator
---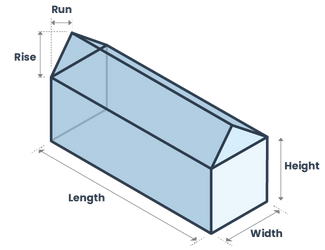 ---
Walls: sq. ft.
Roof: sq. ft.
Total: sq. ft.

Product details:

Also available in 1,000 sq ft rolls.

EcoFoil Solid Radiant Barrier Foil uses reflective technology to increase the energy efficiency and comfort level of your home. A radiant barrier is made of a thin layer of woven polyethylene which is sandwiched between two layers of a highly reflective metalized coating. With the polyethylene core, the reflective barrier cannot be ripped or torn. It blocks 96% of radiant heat transfer, helping keep your home cooler in the summer and warmer in the winter.

The EcoFoil Solid Radiant Barrier acts as a foil vapor barrier when the seams are taped, keeping moisture from passing through it. This radiant barrier foil can be used in walls, roofs, floors and crawl spaces that require a vapor barrier. EcoFoil Radiant Barrier Foil can also be used inside the home on the bottom of the subfloor or joists as a radiant heat barrier, to keep heat contained either up or down, much like zone heating with an HVAC system. 

An easy way to install would be to run the product perpendicular to your framing and staple into place. For new construction the radiant barrier foil would be installed under your sheathing to keep radiant heat out during the summer months and radiant heat in during the winter months. To install in crawl spaces, staple radiant barrier foil to the bottom of your joists, keeping the heat inside your living space which will prevent condensation and the possibility of mold from forming on the joists or subfloor. This 500 square foot roll is perfect for small spaces or to limit purchase of excess materials for your job. 

R-Value Of Radiant Barriers

Rather than rating by R-value, all radiant barrier products are measured by their reflective and emissive properties. EcoFoil radiant barrier foil is 96% reflective and 4% emissive, meaning the product only allows 4% of radiant heat to pass through. For more information on R-values, see our How It Works page or contact a member of our service team via chat, calling (888) 349-3645, or using the form here.  

Important - You must use 3" Foil Tape on the seams of the material to ensure the product acts as one sheet and maintains the moisture barrier.
Materials:

Made of a thin layer of woven polyethylene which is sandwiched between two layers of a highly reflective metalized coating. The material is very durable, tear-resistant, easy to work with and install.
10-year limited warranty:

This product carries a manufacturer's 10-year limited warranty against material defects, including but not limited to de-lamination, surface imperfection, foil corrosion, and air retention. Please note: this warranty does not necessarily cover defects due to improper installation, natural disasters, normal wear and tear, or exposure to chemicals and gasses. View Manufacturer Warranty
Shipping Info:

This product ships FREE via FedEx Ground. Products ship same-day on orders received before 4pm CT and are typically delivered within 2-5 days. Expedited shipping options available. Call us at 888.849.3645 or contact us for more information on shipping options.
Dimensions:

48 in x 125 ft (500 square feet per roll)

less than 1/64" thick
Spec Sheets:
Download Spec Sheet
View full details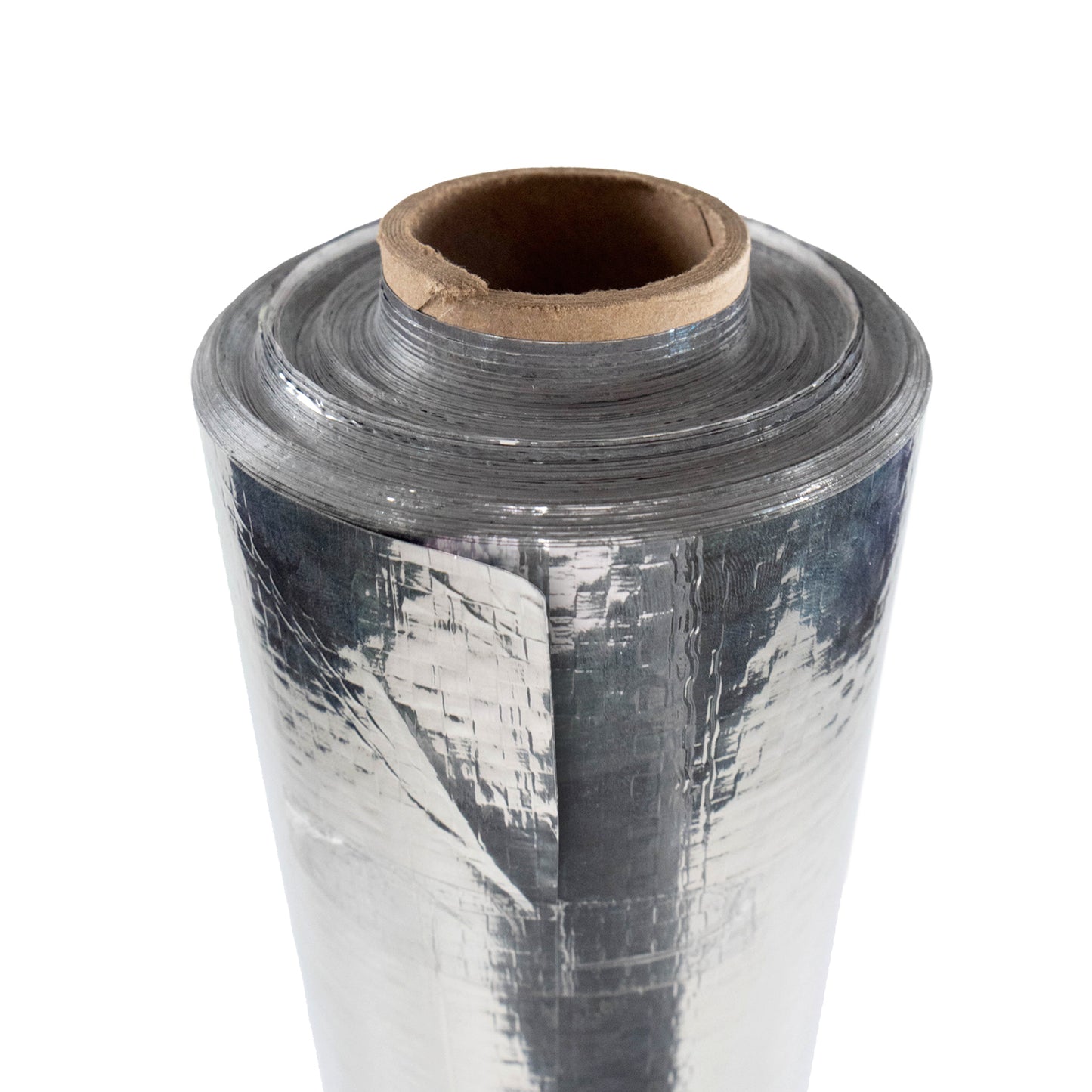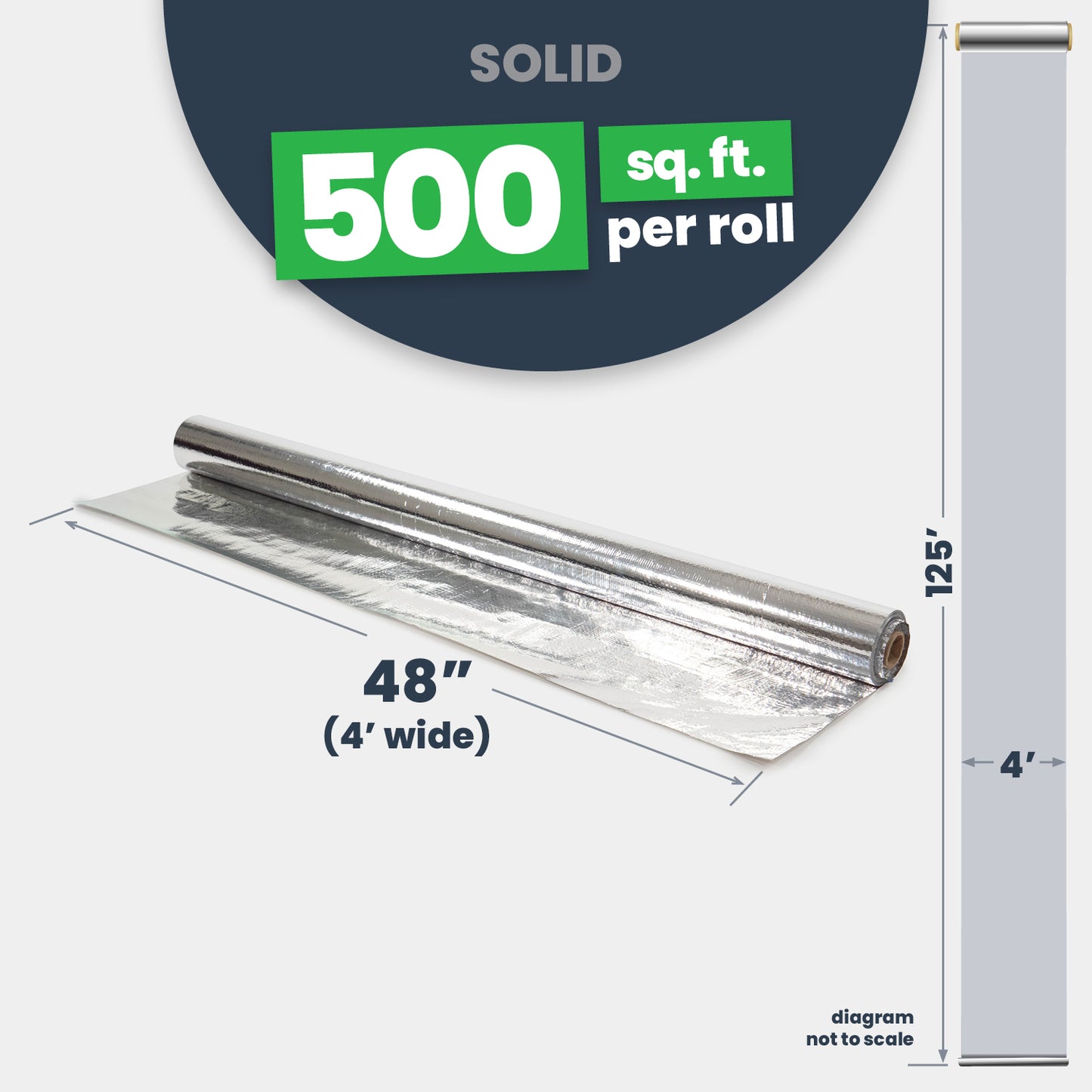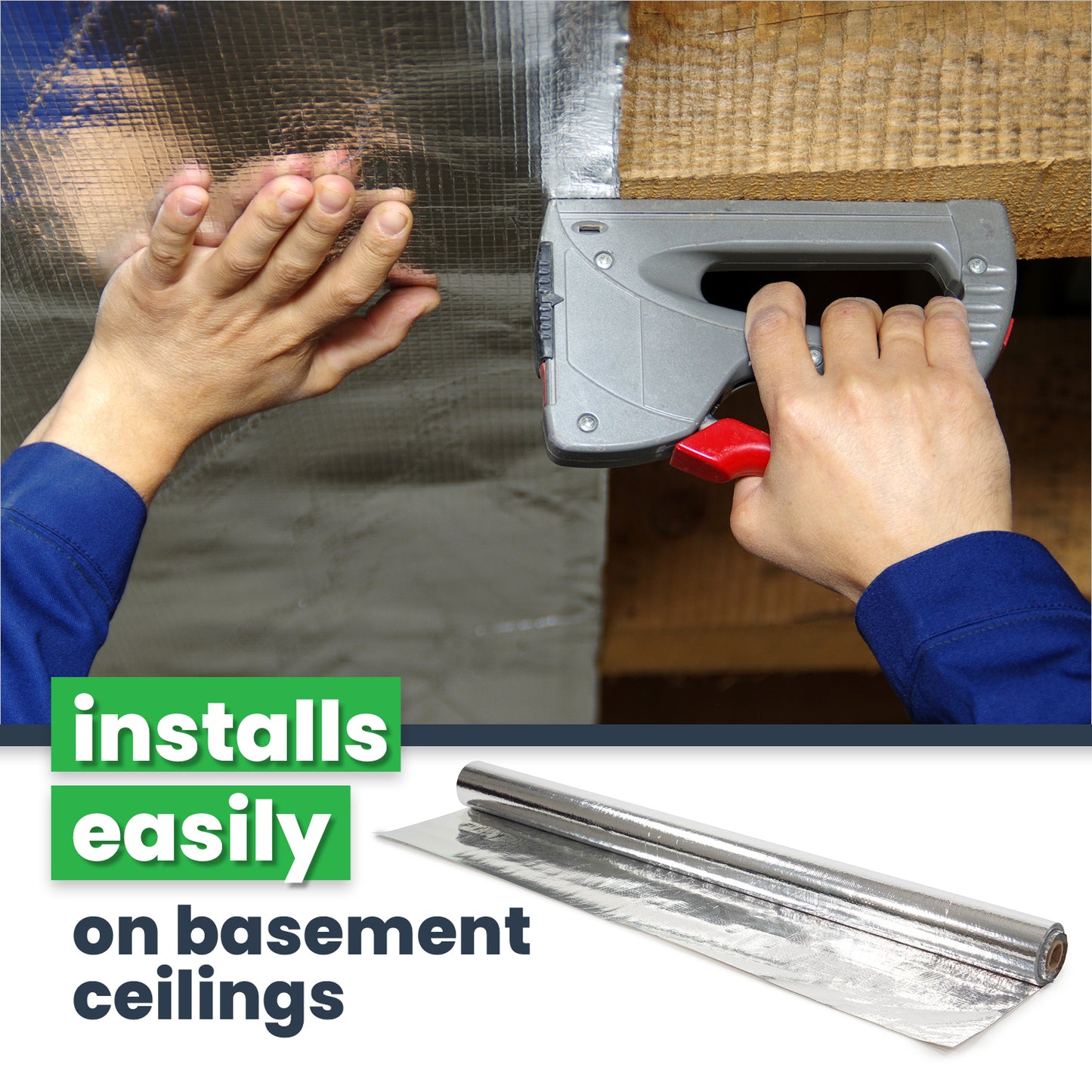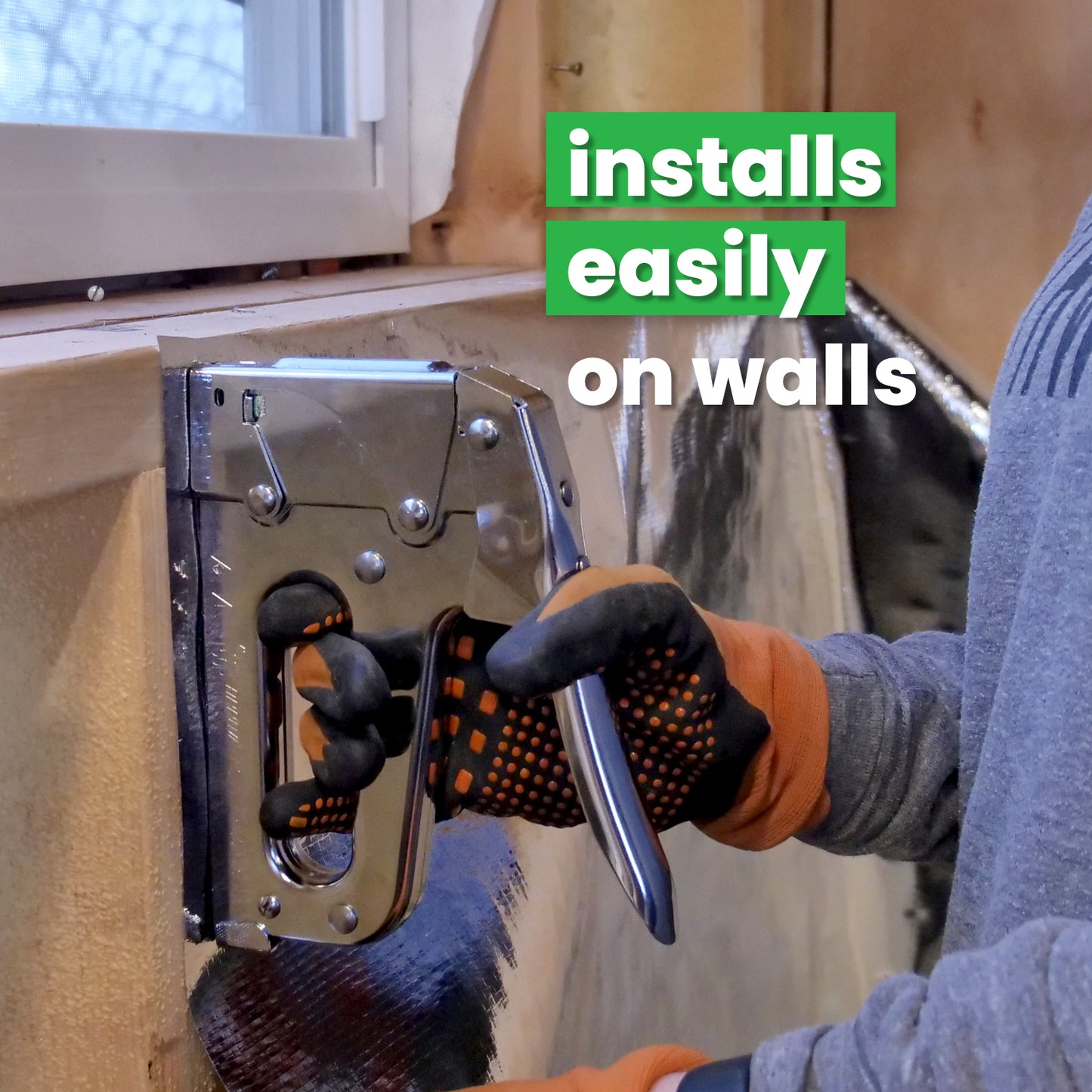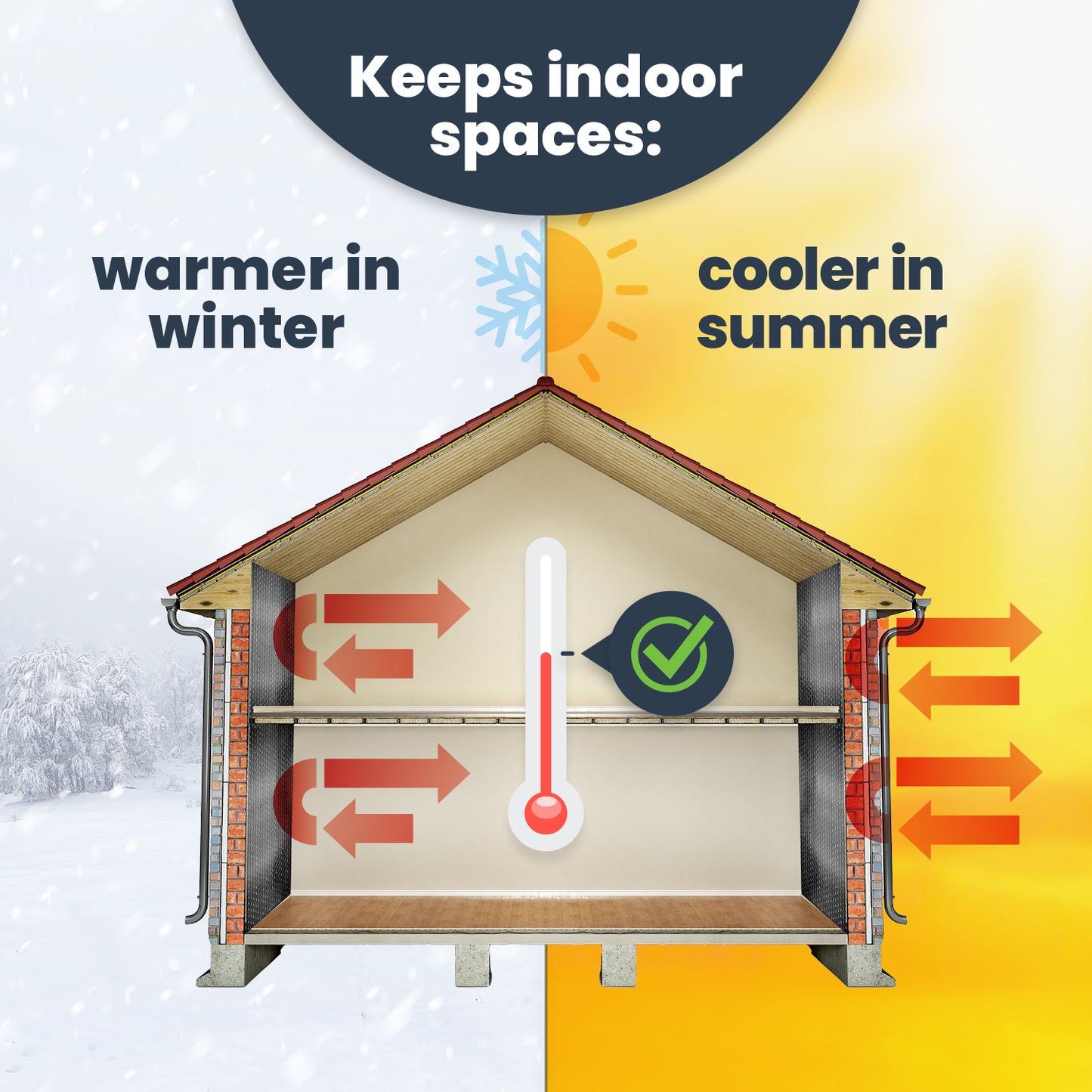 Solid Radiant Barrier Foil - 4' x 125' (500 sq ft)
Thick material, easy to staple
exactly as stated
Not used to having things go right ,but this time it was a good leap of faith. The foil was exactly what I hoped and they give you plenty of it. easy to use and very handy for my project. No surprise customer service was great at getting me the answers when I called.
We are so happy with this product!
We used this product on our uninsulated crawlspace. Last year we used 260 gallons of propane per month. This year we're on track to use about 80 gallons per month.
We are so happy with this product!
The customer service is fantastic too. I would recommend this company to anyone.
Good product
This stuff is much stronger than I was expecting.
Frequently Asked Questions
Shop Radiant Barrier Foil Insulation